AP Evolution & Inspiration in Sharm – Rebreather Courses at Circle Divers Tec and CCR
AP Evolution & Inspiration CCR training
If you're interested in AP Evolution or Inspiration CCR Rebreather training, you'll be delighted with your choice to take your course at Circle Divers Tec and CCR. Our in-house AP CCR instructors are Andy and Sherif. They're the longest standing AP CCR instructors in South Sinai and have a huge amount of experience with the machines. They both teach in a friendly and relaxed manner, allowing you to learn at a speed that suits you.
AP EVOLUTION & INSPIRATION
Sherif provides training on the AP family of rebeathers via IANTD up to Hypoxic CCR diver level. Andy can certify both user and instructor levels via TDI, and is also an AP instructor with ANDI, IANTD, SSI and Tec Rec up to Exploration Trimix level.
They have used their AP rebreathers on cave, wreck and soft-overhead dives in the area to depths of over 150 metres. As a facility, we can deliver the full range of CCR courses on the APD rebreathers. Entry level rebreather training can be completed in as little as 5 days, and machines are always available for rent from our fleet of CCRs for divers who are not able to bring their own units to Egypt. The availability of school units is particularly attractive for those who would like to 'try before they buy'. Guided daily rebreather diving is available, and we can also provide courses up to Exploration Trimix.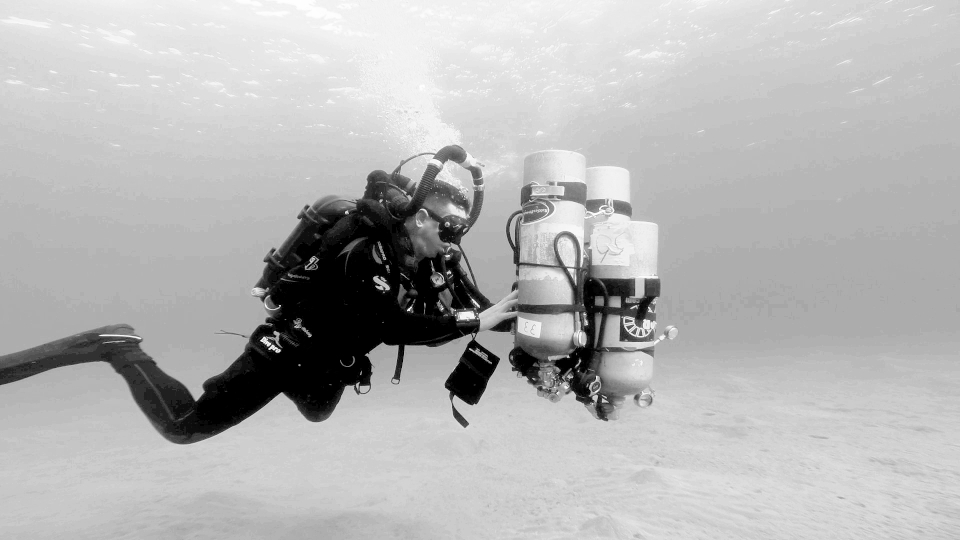 AP EVOLUTION & INSPIRATION Course Options
We're able to provide courses covering the following options on the AP machines:
Entry-level
Firstly, get qualified… Air Diluent (no deco). Basic training (air diluent) up to 30 metres, with no decompression. You may be surprised to learn that a rebreather can be used to make a 20 metre dive for up to 3 hours without the need for decompression!
Intermediate
Next, Air Diluent (Decompression). Increase the range of diving options by upgrading to 40 metres certification, with unlimited decompression, learning to anticipate and deal with potential challenges on rebreather dives. This course focuses on using air as a diluent.
Also an option is Helitrox. We additionally provide training using Helitrox to reduce gas narcosis and increase range up to 45 metres.
Advanced
Next stop is Mixed Gas Diver. Level up to 60 metres with a Normoxic CCR certification. Here, decompression strategies are discussed, we introduce a strong emphasis on the team diving dynamic, and we practice for any eventuality which may occur in the Normoxic diving range.
Finally, the pinnacle of CCR training is the Advanced Mixed Gas Diver. Learn how to safely conduct rebreather dives using trimix up to 100 metres.
REBREATHER INSTRUCTOR TRAINING
CCR Instructor courses are available through Technical Diving International (TDI)
We also run SDI Instructor courses and TDI Open-Circuit Instructor training throughout the year. Contact us for details.